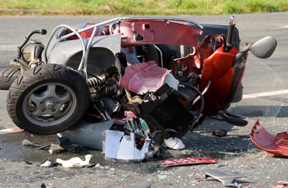 There are two constants that run through just about every Virginia motorcycle accident case our office has handled. First, the adjuster almost always makes the argument that the motorcyclist did something wrong. Second, there is almost never enough insurance coverage available to our client.
"Motorcyclists are Dangerous"
The favorite argument of the insurance adjuster in a motorcycle case is that the biker did something wrong. Adjusters assume, in spite of the fact that there is often no evidence supporting their argument, that the injured biker was swerving in and out of lanes, going too fast, or failed to maintain control of his motorcycle.
Every once in a while adjusters may even acknowledge that there is no evidence that our client did anything wrong. Even so, the will still argue that "jurors know bikes are dangerous." Despite it's absurdity, this tends to be true. Juries in northern Virginia sometimes take the position that the motorcycle rider knew it was dangerous to get on the bike without much protection in the first place and that he had the injury coming to him. For that reason, if you've been injured in an motorcylce accident, you need an experience trial lawyer to present your case to the jury.
How Much Motorcycle Insurance is Enough in Virginia?
You cannot control how much insurance the other drivers on the road have. But you can control how much uninsured motorist coverage you have. One of the things that we've found over the years is that motorcyclists typically do not have enough coverage.
The fact of the matter is that there is no such thing as a small motorcycle accident. When bikers are injured, they are often badly injured. In Virginia, the minimum level of liability coverage you are able to purchase is $25,000 per injury (or, if you pay the DMV $500/yr., you don't actually have to purchase any liability insurance!). $25,000 does not go very far in a case where the motorcyclist suffers broken bones and has to go to the hospital for treatment.
Virginia personal injury attorney David Marks recommend that, as an absolute minimum, motorcyclists purchase $300,000 in uninsured/underinsured motorist coverage. Most people are surprised at how little it costs to increase your insurance coverage by 12x from $25,000 to $300,000. Hopefully, you'll never find yourself in the position where you need $300,000 in coverage. But if you do, you'll be glad you took our advice.